Rebranding Woes: Twitter's Metamorphosis to 'X' Sees Active Users and Rankings Decreased, Twitter Lite Emerges as a Winner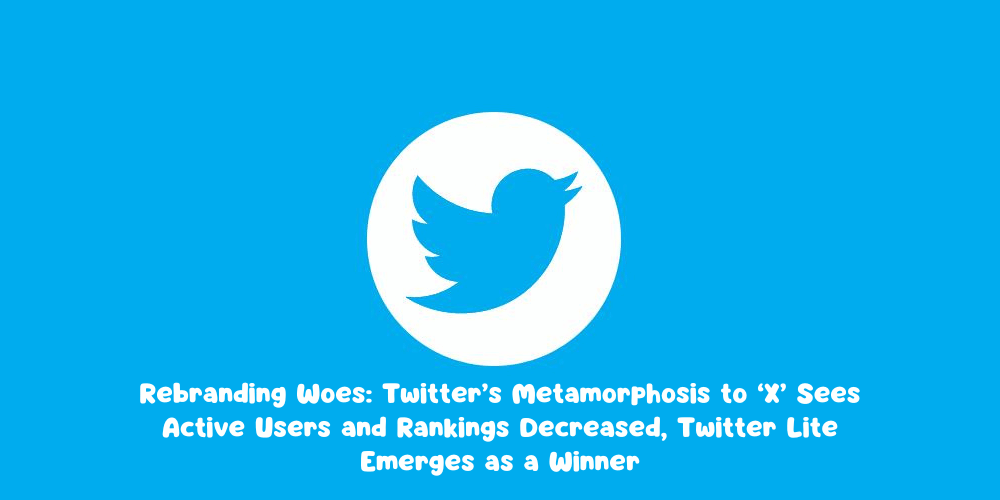 Tech giants staking everything on a rebrand is an audacious move, and Twitter's transition to 'X' is a case in point. Despite initial aftershocks in the weeks post-rebranding, the chiseled diamond in the rough seems to be Twitter Lite. However, the comprehensive image of the transition to 'X' from Twitter, observed through the lens of its number of active users, rankings, and revenue, sketches a fascinating narrative.
Data unearthed by the app intelligence firm Sensor Tower paints a picture of the aftermath of Twitter's rebranding as 'X.' Post-rebrand, 'X' witnessed a decline in active users by 4%, challenging the assumption that a fresh start always means a positive reaction. In addition, 'X' dropped to number 36 in the Overall category ranking, losing four spots. The unfurling of this information underscores the adverse impact this rebrand had on the momentum 'X' was building.
The impact of this plunge was felt across the digital ecosystem, with rival apps such as Bluesky, Instagram Threads, and Mastodon also experiencing a seesaw effect in their download figures. Interestingly, amidst all the turmoil, "Twitter Lite," designed for emerging markets, saw an unexpected surge in downloads. Users searching for the 'Twitter' app ended up downloading Twitter Lite, resulting in an impressive 350% spike in installations during the period of confusion immediately after the rebranding.
Yet, it's not all bad news for 'X.' Despite the decline in active weekly users and rankings, some silver lining emerged for the rebranded microblogging network. According to Sensor Tower's analysis, revenue for X jumped remarkably by ~25% post-rebrand from August 6 to August 20, primarily led by a 24% increase from the iOS platform. This unexpected rise in revenue demonstrates that old users were willing to interact financially with the platform, signifying underlying loyalty.
To sum up, the metamorphosis of Twitter into 'X' has produced a mixed bag of results. Although the move seems to have initially jolted the digital landscape, the dust is gradually settling, revealing unexpected winners like Twitter Lite. As brands evolve in the digital era, rebranding challenges and learnings from the transformation of Twitter into 'X' can offer invaluable insights. After all, the future of brand development hinges not only on catching the public eye but also on holding onto it amid a whirlwind of change.